The Benefits of Softwash Roof Cleaning | Roof Cleaning Experts in Gainesville, FL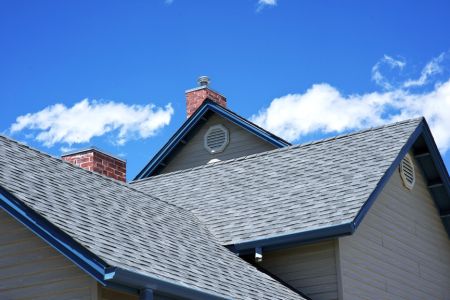 Roof Cleaning in Gainesville, FL | The Benefits of Softwash Roof Cleaning
Gainesville, Florida, is known for its gorgeous homes and year-round warm weather. But the humid conditions can encourage the growth of organisms like algae, mold, and mildew on the exterior of your Gainesville, FL, home or business, particularly your roofs.
Having your roof professionally cleaned can prevent costly repairs and premature breakdowns. Make sure you hire the most responsive & professional roofing company in Gainesville, FL to make sure it's an easy process.
That is what Worthmann Roofing does! We are a Gainesville roof cleaning company that offers high-quality roof cleaning services for all roofing types, including residential and commercial roofs. We use low-pressure, environmentally safe chemicals to avoid roof damage. We also offer superior roof repair, roof replacement, and gutter installation. Call (352) 472-3228 for the best roof cleaning in Gainesville.
What is soft-wash roof cleaning?
Soft washing is one of the best ways to clean your roof without inflicting any damage, and it is a more effective solution than traditional power washing. The process involves using
eco-friendly detergents and low-pressure water to clean the roof of dirt, algae, and moss. The most common chemicals used to clean roofs are sodium hypochlorite-based treatments that provide immediate effects. They are sprayed on the roof once the moss has been removed and then rinsed off, as it is not recommended to leave this substance on the roof. Another chemical used is a biocide treatment (DDAC) applied to the tiles, but instead of being rinsed off, this is left on to work with the natural weather cycles over time.
Furthermore, frequent roof cleaning increases the durability and lifespan of your roof. It's not only about looks; it's also about safeguarding your investment. Soft washing may offer a deep clean while keeping the integrity of your roofing material, whether you have a flat roof, metal roof, standing seam metal roof, or shingle roof. So if you want a safe and efficient way to clean your roof, Worthmann Roofing soft washing is worth considering.
The benefits of soft-washing your roof.
Roof cleaning extends your roof's lifespan.
Moss- and mildew-damaged roofs can lose up to 50% of their service life due to bacterial degradation. Roof cleaning is an affordable alternative to spending thousands of dollars on regular maintenance and roofing leak repairs, increasing the roof's lifespan and preventing future damage. Contact us for a Gainesville roof cleaning; we can help you invest in your roof's long future.
Roof cleaning removes harmful mold and algae.
There are health advantages to cleaning your roof. When mold spores from your filthy roof enter your home through your air conditioning system, it puts everyone inside at risk for illness. Regular professional roof cleaning may prevent mold and other organisms from entering your attic through your roof.
Give us a call if you see damaging algae growing on your roof. Our certified roofers in Gainesville, Florida, have the tools and expertise required to control the dirt on any roof, including yours.
Roof cleaning can boost curb appeal.
Regular roof cleaning is essential for maintaining the whole property's aesthetic value. A dirty roof can hinder you from selling your house, preventing you from getting your asking price. An intensive roof cleaning can give your home's exterior a neat, inviting finish, increasing curb appeal and creating a favorable first impression on potential buyers.
Worthmann Roofing provides eco-friendly, biodegradable soft-wash roof cleaning, eliminating unsightly stains and organisms and avoiding high-pressure washing damage, increasing property lifespan and market value.
Roof cleaning can prevent costly damage.
Since your roof serves as your home's first line of defense against the weather, any damage it suffers can spread to other areas, creating a domino effect of costly problems. Regular roof cleanings can prevent long-term issues and damage from spreading to other areas.
Contact Worthmann Roofing, a reputable contractor in Gainesville, Florida, for a roofing inspection or a free roof cleaning estimate today.
Roof cleaning improves energy efficiency.
Roof cleaning significantly improves energy efficiency, especially during the summer months. Dirtier roofs absorb heat, causing the air conditioner to work harder. A clean roof better reflects sunlight, deflecting extreme temperatures and lowering cooling bills.
Worthmann Roofing promotes energy savings and offers intensive roof cleaning services in the Gainsville, FL, area and beyond. Contact our friendly support team to schedule an appointment today.
Roof cleaning can avoid insurance policy cancellation.
Insurance firms warn homeowners that their roofing warranty contracts can be terminated if they don't clean their roofs. Moss may harm asphalt shingles, and insurance companies don't want to cover the cost of a new roof.
Schedule a thorough roof cleaning with Worthmann Roofing, a Gainesville, Florida, residential roofing company, and avoid having your insurance policy canceled or future claims denied.
Is soft washing safe for the environment?
Worthmann Roofing is committed to being the environmental leader in roof cleaning, focusing on a clean, healthy environment. Our services use environmentally friendly cleaning agents.
Not only is soft washing environmentally friendly, but it is also efficient and has long-lasting results. This method also saves more water than standard pressure or power washing, making it more sustainable for the environment and your wallet.
The importance of gutter cleaning.
Gutter cleaning is equally as crucial as roof cleaning. Gutter cleaning is vital for securely collecting rainwater from homes and directing it into the drainage system. Unfavorable weather can clog gutters, causing additional problems. Worthmann Roofing provides licensed and experienced roofing specialists to handle this tedious and time-consuming task.
We are Gainesville's #1 low-pressure roof cleaning company
When searching for the best residential and commercial roof cleaning services near me, look no further; Worthmann Roofing is the expert in Gainesville soft wash roof cleaning. Contact our licensed and experienced roofing professionals today at (352) 472-3228 for a free,
no-obligation roof cleaning quote.