Franchising puts business ownership within reach of Canadians
Major Canadian banks' advice and statistics on franchise financing reveal owning a business is possible across industries, price points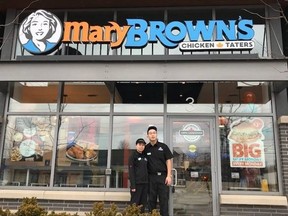 Article content
As the Canadian workforce evolves and interest in self-employment ramps up, many Canadians are considering investing in a franchise to make their dreams of being their own boss come true. The desire and ability for aspiring Canadian small business owners is considerable.
Article content
According to the Canadian Franchise Association's (CFA) prospective franchisee statistics, 39.5 per cent of aspiring franchisees have between $100,000 and $500,000 in cash to invest, and 18.9 per cent have $50,000 to $100,000. Additionally, 94 per cent of Canadians say they're looking to invest within the next year. This suggests that prospective franchisees in Canada have the cash to invest and are looking to make the move to self-employment soon.
As a business model, franchising — and opportunities for small business ownership through it — can be found in almost every sector and industry. Investments required to open a franchise can range from less than $10,000 to more than $1,000,000, depending on the type of business one wants to own.
Article content
But how much is the average franchise investment? And how long does it typically take to repay franchise business loans?
In collaboration with major Canadian Banks including CIBC, National Bank of Canada, Scotiabank, and Bank of Montreal, the CFA compiled data on loans for franchised businesses to understand national average costs, average minimum equity (capital to invest), and the average timeframe for repayment.
(Table 1) National average franchise ownership bank loan data
| | | |
| --- | --- | --- |
| Average bank loan | Average minimum equity | Average time for repayment |
| $570,000 | 33% | Five to 10 years |
The chart below takes a closer look at seven industries within franchising and their average franchise loan data.
(Table 2) National average franchise ownership bank loan data by category
Article content
AVERAGE BANK LOAN
MINIMUM EQUITY
FOOD/RESTAURANTS/QSR
$712,500
45%
CHILDREN'S SERVICES
$500,000
28%
AUTOMOBILE SERVICES
$500,000
28%
RETAIL/BUSINESS & CONSUMER SERVICES
$846,400
30%
HOME SERVICES/
RENOVATION/REALTY
$459,500
36%
BEAUTY/HEALTH/SENIOR CARE
$598,000
29%
OTHER
$375,000
35%
"While these statistics are overall averages in Canada, this doesn't mean that you must have hundreds of thousands of dollars in personal capital to be able to invest in a franchise," says Sherry McNeil, president and CEO of the CFA. "There's a wide variety of franchise ownership opportunities in many areas of business and at all price points." The CFA's online directory of franchise opportunities, LookforaFranchise.ca, lists more than 500 franchise brands in more than 50 categories of business from food to business services and beauty to automotive. "There really is a franchise for everyone."
Article content
For those looking to take steps towards becoming a franchise business owner, the banks have these top five tips for applying for loans:
Do proper research on the franchisor. Understand the concept, all costs associated with the investment, the potential of the business, and speak with other franchisees within the franchise network.
Understand your margins and the debt servicing capacity of the franchise business. It's crucial to understand if you can make bank loan payments on time to maintain a good credit score for future borrowing.
Meet with your banker/business advisor first to discuss what you want to do as they'll be able to advise how you can do it and what your options are up front. Your banker can help you understand the requirements and guide you through the process.
Be prepared to provide all required information when you apply for a loan. This includes your net worth form, two pieces of ID, the latest two years personal notice of assessment and T1 generals, a business plan, and a gift letter, if applicable. It's important to provide all information up front to show that you have the elements in order and a vision for the success of your business.
Maintain a cash reserve for unforeseen events/opportunities. The past couple of years have taught us that unforeseeable events can impact your business, and having sufficient equity or a cash reserve that's regularly maintained will help your business through these times.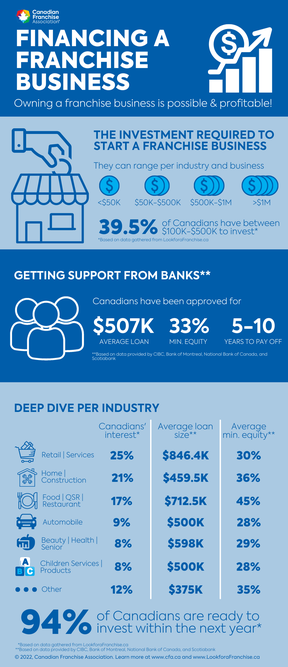 Rest assured that you can find a variety of franchise opportunities to suit your financial needs. Kick-start your franchising journey with free educational sessions and networking opportunities with experts and national brands at Canada's ultimate franchise exhibition, the Franchise Canada Show Toronto on March 26-27, 2022. Free registration here!
This story was provided by the Canadian Franchise Association for commercial purposes.